Svetlana and Konstantin  treated themselves with a honeymoon trip and a photo walk in Venice. Since we first met at their top-class hotel Locanda Vivaldi near San Marco Square, I enjoyed their passionate and energetic attitude : they were shining with happiness and love for each other and ready to see the funny side of life.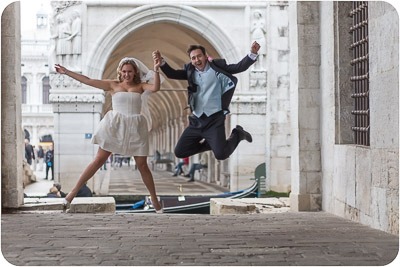 We strolled along Venetian alleys, squares and bridges in a relaxed mood and I made the most of their easiness and irony to make some spontaneous and intense couple portraits. I captured  them kissing in romantic spots, playing with the wedding gowns, hugging on desert alleys and even jumping to express their joy.
I let them enjoy a break in a café, then tried my best to get original couple photos by adding special photographic effects.
We went back to the hotel, they changed their attire and we took some photographs with the couple showing at the window. Then we headed back to Piazza San Marco for a few more romantic couple portraits at dusk with the sky turning dark and the city lights turning on one by one….
Svetlana and Konstantin again enjoyed playing with the bridal veil, trying funny poses and laughing at each other…which was much appreciated by lots of passers-by who stopped to look at them!
Have a look at further examples of my honeymoon photo services in Venice.
Planning to visit Venice? Write me to plan your photosession:
(Visited 533 times, 1 visits today)