Celebrating their wedding in Venice is a dream shared by many couples worldwide. Working as a professional engagement, wedding and honeymoon photographer I regularly meet couples fascinated by this very romantic and unique city: they want to have its squares, channels, alleys and monuments as the background of their photographs in such a special day.
Many couples even treat themselves with a pre-wedding photo service in Venice or with some couple photo portraits in this city wearing their wedding suites before or after the ceremony itself.
But if you want to enjoy a real civil wedding in Venice you just have to follow a few simple steps:
–          1. Contact your local authorities: Italian citizens need to get the wedding bans and a specific request from their city mayor (unless they are Venetian residents); foreigners need to get a license from their country's Embassy or Consulate, sometimes after a sworn statement.
–          2. Book your wedding day by contacting the Venice wedding registry office, (Tel. +39.041.2748331/8332/8833; email: statocivile.venezia@comune.venezia) or else by filling the on-line form at comune di Venezia website.
We recommend to use the on-line option since it is easier, quicker and even cheaper. Wedding fees might change due to the couple's origin, their choice of the hall, the need to perform the wedding rites at special times and the request of special services (interpreter, internet broadcasting, etc.). Wedding ceremonies are usually performed from Monday to Saturday from 8.45 a.m. to 1 p.m. but you can ask for different hours by paying extra fees.
–          3. Book your hotel in Venice, your wedding photograph and perhaps even a gondola for your wedding day.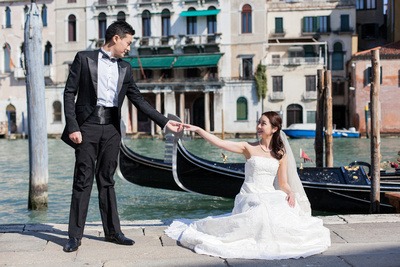 –          4. On the very day of your wedding go to Palazzo Cavalli, an ancient 16th century building located near Rialto Bridge and enjoy its luxurious halls and fittings, the view on the Canal Grande…and your wedding ceremony!
For further examples of couple photo services in Venice see my website.
(Visited 535 times, 1 visits today)