Efi and Gianni's wedding was really special: no relative was present, no friends, no make-up artist, no hair-stylist…just the two of them, the photographer in charge of their wedding photo reportage and the office employees at the Greek Consulate in Venice.
In some way the wedding reminded me of the "elopements" that used to take place in the past when couples had to get married far away from home to avoid objections from parents. Nowadays similar weddings do take place but are more like a kind of destination weddings, with couple performing the wedding rites in another place than home just to enjoy more privacy or get the most of a romantic environment.
Efi and Gianni just wanted an intimate, very informal wedding ceremony before attending a traditional marriage in Greece later on. The result was a very romantic and intense day both for the couple and for me, as I was chosen as their wedding photographer in this special day.
Spontaneity, simplicity and passion characterized each phase of this wedding. The preparation of the couple, for instance, took place in their hotel room without relatives or assistants, while using elegant and simple details that enhanced the atmosphere and the photographs I shot during this wedding photo service: Gianni's bow tie, Efi's pink dress and her make-up which was made in a make-up products store without spending a penny…
The couple enjoyed many romantic and intense moments during the rest of the day: during an informal photo walk on their way to the Greek consulate, when they stopped to kiss and hug along the channels and on the public ferry boat; during the wedding civil ceremony when their joy and passion enlivened the cold atmosphere of an administrative office in the consulate; during the final walk in Venice when their relaxed mood allowed even more spontaneous and lively shots to be made. A simple great wedding….no match for any big fat Greek wedding!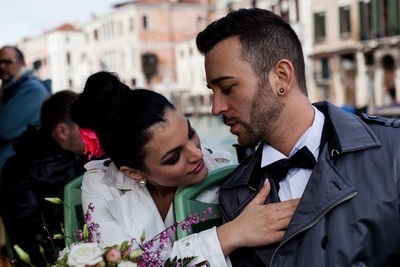 For further examples of wedding photo services in Venice see my website.
Post by Metella Iaconello.