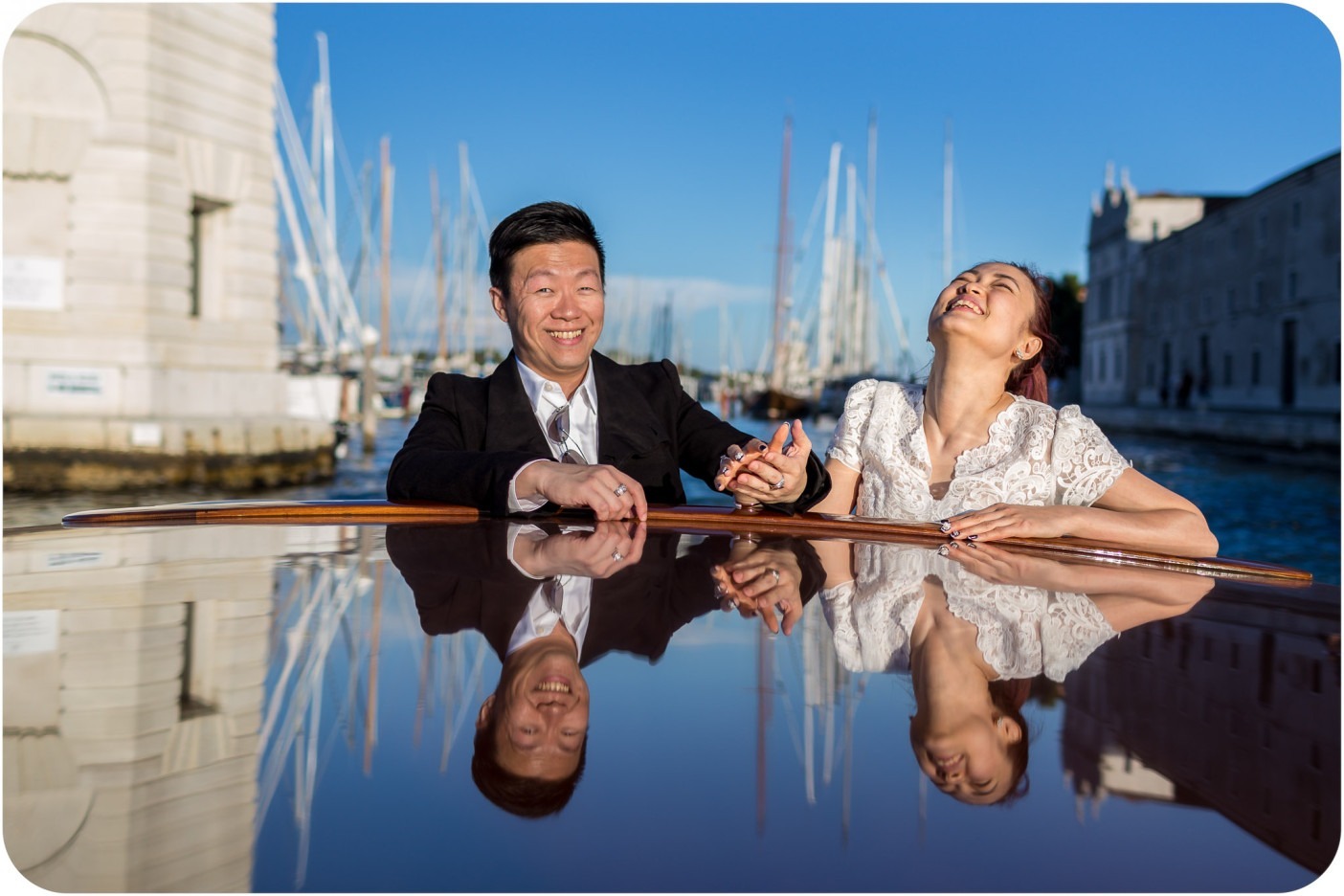 A wedding proposal photo service is usually a reportage of intense joy. In most cases proposals are delivered as a surprise to the would be bride which, more often than not, causes an amazed yet passionate reaction. Therefore, no matter what the weather is like, joy will in any case pour out of the sky as a thunder out of the blue.
Nonetheless, what happened to a couple that hired me for a surprise proposal photo service in Venice is still impressive.
First of all, the weather was gorgeous: a sunny winter day in Venice with a perfect light. That kind of light so loved by the Russian poet Joseph Brodsky, able to enhance the beauty of Venice and its visitors, mix the color of the sky with that of outfits and palaces, intoxicating you with sea reflections and boost people's feelings to the highest level. The would-be husband could not wish more than that as a perfect backdrop for his proposal.
But even more amazing than that was the perfect harmony between the couple's mood and the whole surrounding. Everything was shining: the sun was shining, the sea waves were shining, the colors of buildings, boats and objects were shining and the couple was shining themselves. The girl was especially joyful and even felt like dancing and playing once the couple arrived on San Giorgio island. She was delighted by the great view on the lagoon and San Marco Square and the would-be husband was shining out of his love for her and the joy for her happiness.
When he fell down on his knees to propose, it looked like as if he was surrounded by strategic allies: the sun, the sea, the view and the beauty of Venice. And joy seemed to fill the air when the proposal was delivered as the sun was continuing to warm up the whole scene and enhance the surrounding colors.
Once the proposal was properly delivered and accepted, the couple treated themselves with a ride on a water taxi and a short photo walk in Venice. They went on smiling, kissing, hugging, jumping, playing and, above all, they went on shining!!
This gave the proposal photographer the chance to make a few more very romantic, intense couple portraits in Venice: the whole city seemed to smile along this happy shiny couple and share their joy…
Have a look at further examples of my wedding proposal photographs in Venice or contact me for your own surprise proposal photo service.
[contact-form-7 id="1555″ title="Contact form 1″]
(Visited 156 times, 1 visits today)