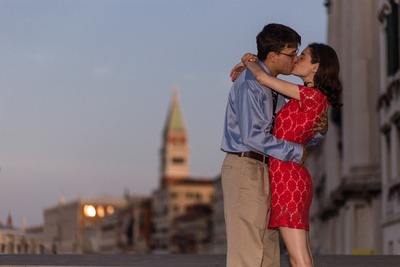 As a wedding, engagement, and honeymoon photographer I meet different kinds of couples. When I met two young scholars for a photo walk in Venice I immediately had a the impression of refined, peaceful and intelligent persons making up a passionate and solid couple: their feelings looked as deep as their knowledge.
We met before sunrise so that I could photograph the couple in the empty San Marco Square, the background of the pink-tinged sky and the Venetian lagoon. The couple felt at ease enough to spontaneously kiss and hug in front of my camera and even run freely in the middle of the square.
We strolled in the nearby alleys and stopped to take some more couple photo portraits with the sun getting higher and city more lively.
We came across a graffiti wall: a kind of mathematic function showed how life can be happy living as a couple and sad without one's love…an ideal background for a romantic couple photograph for scholars!
See further examples of couple photo services  and photo walks in Venice.
(Visited 360 times, 1 visits today)